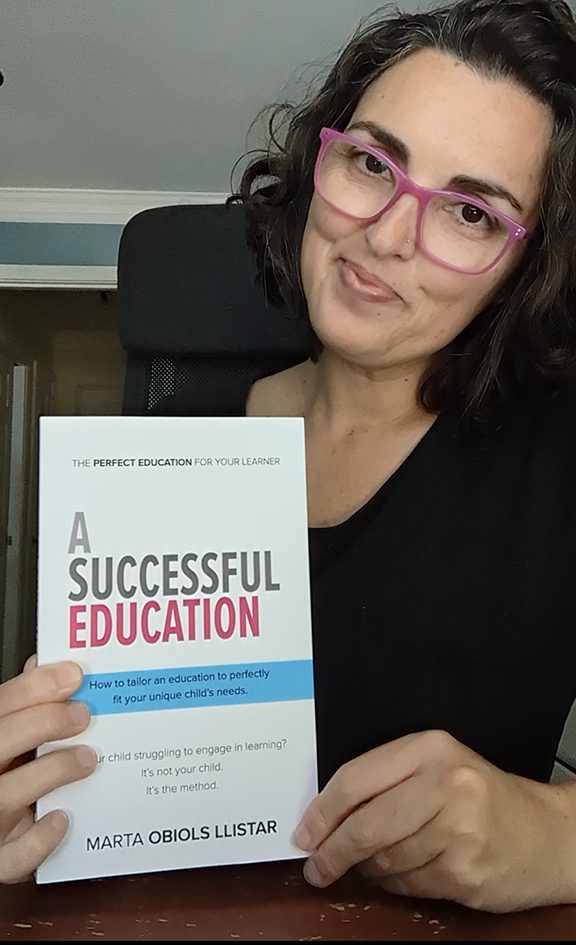 In mid-2021, Marta Obiols Llistar released her first book, 18. Thanks to her steady efforts, the book has made its way into the hands and hearts of many homeschooling and unschooling families. Two years later, she published her second book, A Successful Education.
Find out what drove her to create her second book so quickly and what her goals are this time around.
When you published 18, did you plan to write a second book? If not, what inspired you to write A Successful Education?
Yes, I had two books in mind. However, I received so many messages from readers asking how to educate their children that I put writing my books on hold. Instead, I started catering to these families, educating and coaching them. Over time, I realized I was putting a lot of effort into writing private responses to individual queries, and that's when I realized I had already written almost half of a book. So, I decided to compile the information that many families needed and create a book, which eventually became A Successful Education.
What is your new book about, and how is it different from your first book?
My first book was unplanned; it happened out of the blue. It's about my experience educating my children in a very alternative and uncommon way. There are many books explaining how children learn, why schools fail, and alternative education methods, but there are no books showing what happens and what it looks like when you educate differently. When my son turned eighteen, I wanted to show other families what it looked like to unschool, so they had an example. It was written from the heart.
My second book is completely different. It was written with a purpose. I tried to explain how I unschool and guide families who want to do the same. We all have the ability to educate our children without relying on traditional schools. However, because school has been around for a while and we all went through it, we have completely forgotten how to educate our own children. Hopefully, my book will guide those families who want to educate differently but successfully.
We were so thankful that you chose to work with Argyle Fox Publishing for this second book. Did you know you wanted to use us from the start, or did you consider other publishers? Why did you ultimately decide to use us again?
I didn't initially plan to work with any specific publisher. At first, my intention was to write a quick and simple guide and self-publish it on Amazon. However, as I kept writing and the book grew, I felt overwhelmed with the task of turning it into a proper book format. That's when I realized I needed help and decided to work with you. I didn't consider any other publishers because I felt confident in your support. You always respect and understand my needs.
Now that A Successful Education is published, how will you measure whether your book is a success? What is your goal for the book?
My goal for the book was to have it serve as a resource that I could direct parents to whenever they asked me questions on social media about how to educate their children. I received numerous messages and got overwhelmed, which is what prompted me to create this book as a solution. So, my measure of success is to continue helping families when they reach out and to guide them to my book for comprehensive answers and support. Just like my first book, if I can help even one family, I consider the book a success. Fortunately, I've already received positive feedback from a mom saying that my words resonate with her, which reinforces the book's success.
You've had a while to get 18 in readers' hands. What are some of the most successful marketing techniques you used for it, and what are you doing to market A Successful Education?
The most successful marketing technique for 18 was to connect with the target audience through social media platforms like Instagram, Twitter, and TikTok. I focused on engaging, guiding, educating, and entertaining them, which helped generate interest in the book. Similarly, for A Successful Education, I am following the same approach by actively interacting with the audience on social media and providing valuable content to parents who are seeking alternative education methods.
What feedback have you received so far on your book?
So far, I've received positive feedback from a mom who reached out to me saying she really likes what she's reading in the book. She also mentioned another educational method she is interested in and would like to discuss with me, which inspired me to consider starting discussions with other moms to provide further support and guidance.
How was the publishing experience different this time around?
The publishing experience for A Successful Education was very different from my first book, 18. With 18, I sought validation and eagerly awaited reviewers' feedback to assure myself that I was a good writer. I placed great value on positive reviews. However, with A Successful Education, I had a different perspective. I wrote the book with the sole purpose of helping families in need of guidance, and I didn't seek validation for my writing skills. My main focus was to be of service to others and provide them with the information they required.
Do you have a third book in process? If so, do you mind telling us a bit about it?
Yes, I have many book ideas in my head right now, but I am unsure which one to tackle first. Additionally, I feel the need to take a break from writing and explore other interests, such as learning to write copy and potentially working for companies. The abundance of ideas is overwhelming, and I need to take some time to figure out my next steps.
Where can readers find you online?
They can find me at my two websites, asuccessfuleducation.com and martaobiolsllistar.com,
or on Instagram or TikTok.
Is there anything else the world should know about you or your writing?
I learned about unschooling, this very different educational method, thanks to a mom—a stranger I met in a civic center where our kids were taking a class. She told me to read about it, and I did. It changed my life, and now I hope to be that same stranger to other parents.
Thanks so much, and here's to success!