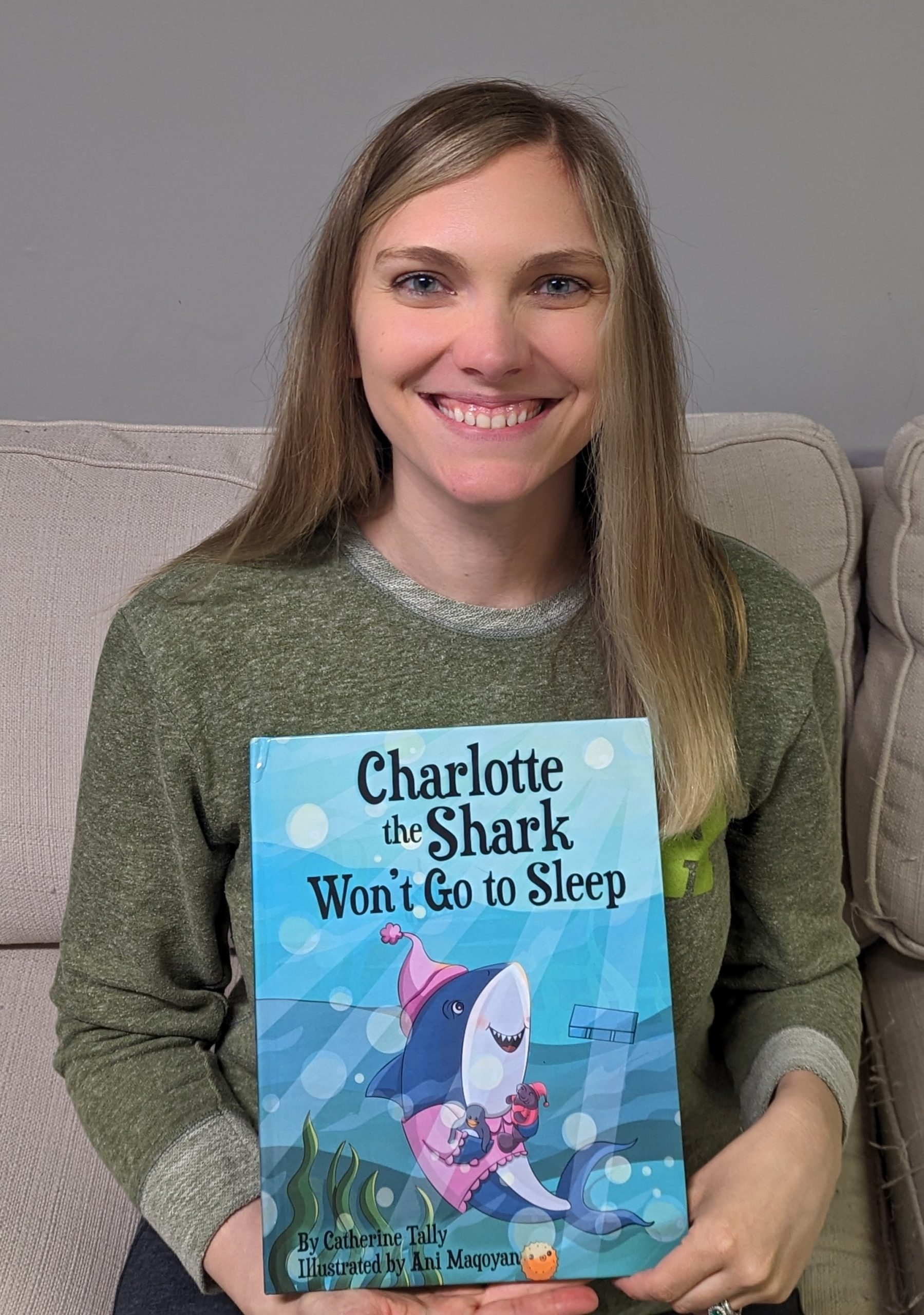 If you're a parent, you know how difficult it can be to get your children to hit the hay. Catherine Tally wrote about it in her first picture book, Charlotte the Shark Won't Go to Sleep. Keep reading to meet the author of this sweet and funny book!
Who is Catherine Tally?
I was born in Chicago, Illinois, on a wintry afternoon on December 30, 1989. A day and a half in the '80s was all I experienced until the ball dropped on New Year's Eve and welcomed in the '90s. (I enjoy the look on the "true" '80's kids' faces when I tell them I was one too!) Though I was born in Chicago, I have lived my whole life and grown up in Griffith, a small town in Northwest Indiana. If you've ever seen A Christmas Story, you've heard of our town, because they mention us! "Some Clodhopper down in Griffith, Indiana . . ."
Growing up, it was important to my mom that her kids were well rounded. Because of this, we were given opportunities to try all kinds of sports and activities. I grew up playing soccer, softball, basketball, and tennis. I also played saxophone from fifth grade until I graduated high school. Soccer and tennis stuck with me, but my mom instilled something else in me: a love of reading.
I don't know when I learned to read, but I remember my mom spending extra time with me outside of school, really hammering home phonics. Once it clicked, the possibilities were endless. My mom shared all her favorite books with me, the classics and the obscure. While everyone else's fourth grade reading goal was a mere 200–500 pages, mine was 2,500 pages, and I met these goals with ease.
I wrote my first story, "The Case of the Missing Warheads," in third grade. In case you're confused, I'm not talking about nuclear warheads, but the deliciously sour candies that are almost unbearable. I still have this story stashed away, written on distinctive yellow legal pad paper. Since I'm left-handed, my mom bought me pads that tore from the top so the spiral from the notebook wouldn't be in my way while writing. (She was always so considerate!) But oh, how that paper has held up over twenty-five years; it has barely faded. My mom unfortunately passed away from breast cancer a few months after I graduated high school, but she's a huge part of why I love reading and writing, and why she received the first dedication in my book.
In high school and college, I enjoyed writing essays, short stories, and term papers. I saw these as an opportunity to write, and therefore it was fun, rather than work. A few years ago during the pandemic, I posted a silly limerick to Facebook about COVID-19. Somebody commented on it and said, "You should write children's books!" That comment really got the wheels turning, and even though I wouldn't write Charlotte the Shark for a couple more years, it planted the seed and made me realize that was something I would love to do.
When I'm not writing or reading, you can find me homeschooling, coaching my daughter's soccer team, cooking (I operate a vegan cooking blog), and trying to soak up as much time with my kids as possible because time passes too quickly.
Charlotte the Shark Won't Go to Sleep should hit home for most parents. Tell us what inspired the story. Why did you choose to make Charlotte a shark?
It really hits home for me! My little Charlotte was my first baby, and as if navigating new parenthood wasn't difficult enough, she had a lot of trouble sleeping. It can be very frustrating, but I think it's important to remember that it's something children grow out of. Writing Charlotte the Shark Won't Go to Sleep was an outlet for me to voice my own frustrations, but also to let other parents know that it's okay if your child doesn't sleep right now. They will one day, and it's in no way a reflection of the parent(s). As the story says, "Not all pups sleep well; not all parents luck out."
As for Charlotte being a shark, that stems from a silly nickname I made up for my daughter when she was fairly little. She would pretend to chomp when she was eating, so I called her Shark one day; it just kind of stuck. I do have to say, I enjoy the unconventional alliteration!
What is your writing process? Do you have a routine or do you write when inspired?
Most people who know me know I'm not the best with routines. I absolutely have to be inspired by something, and usually that something is real life. If I'm truly inspired, the idea and words come to me pretty quickly. On occasion I'll have an idea for something, write it down, then slowly add to it as more inspiration strikes. Very rarely do I ever set aside a block of time and tell myself, "Ok, for the next half hour, it's time to write." (That's very difficult to do with kids anyway!)
If I haven't written in a while, I text one of my friends and ask them to give me a subject, then I write them a limerick on that subject in under five minutes. It's a fun way to keep my brain actively writing, and my friends like to see what I come up with. My brothers are all great at math, so I tell people that I can't solve an integral (anymore), but I can write you a limerick within minutes! But honestly, which one is more fun?
How did you find Argyle Fox Publishing, and what made you think we would be a good fit?
I love the story of how I found Argyle Fox because it seems so serendipitous.
I'd been looking into a hybrid model of publishing for a while, but was getting a bit overwhelmed with the prices some companies were asking. For me personally, as someone who doesn't possess the skill to illustrate her own creations, the price per page of illustration alone was far outside my budget. In this day and age, our phones seem to know exactly what we are looking for, so that's actually what happened; Argyle Fox was strategically placed in my Instagram ads! I was pretty drawn to the logo and name and then how affordable it seemed to be, so I figured why not?
After reading the Argyle Fox website, it appeared to be everything I was looking for. Mainly, it was an affordable price, even for someone who needed an illustrator. Everything was quite clear on the website, and as someone who tries to find negative reviews before committing, I must tell you, I couldn't find one about Argyle Fox. Once I discovered Daniel was one of the kindest and most attentive people ever, I knew I was in the right place! How often does clicking an Instagram ad lead to a lifelong dream fulfilled?
Now that Charlotte the Shark is published, how will you measure whether your book is a success? What is your goal for the book?
Success is such a relative term. So many people have sent me pictures of their little ones enjoying the book. One little girl wouldn't put it down and carried it around all day. Two-year-olds are shouting, "Shark book! Again, again!"
The fact that children are reading and enjoying my story already checks the box on my ultimate goal, and to me, that makes my book successful. Of course, it would be nice to make back the investment I put into it, but I have quite a bit of time to do that! Charlotte the Shark isn't going anywhere.
Your book was recently released. What are you doing to market your book and let folks know it is available?
I happen to have a wonderful Facebook following of friends and family. Several weeks before the book was set to release, I posted about it being available for pre-order. I have to say, they really came through! A majority of my sales so far were pre-orders, and you never know who is going to support you! Kind people I hadn't talked to in years were commenting to say they'd ordered. My friend interviewed me for an episode of her podcast after seeing I published a book and offered me free promotion through there. It's important to just share, share, share!
I recently met with a manager at my local Barnes and Noble who is going to be in touch about doing a book signing and reading, so that should be exciting!
There is a park right here in my town that has a Storybook Walk where the book is displayed throughout the park and parents can walk with their kids and read it. I asked if my book could be featured there, so that should be coming soon. They in turn asked me to read my book at an event at the very same park!
I also contacted a local popcorn shop and asked if they wanted to collaborate on an event in July for Shark Week, so we are planning the details of that as well.
I live fairly close to the Shedd Aquarium, so I would love to see my book on the shelves in their gift shop. I'm still looking into it! You never know what opportunities will present themselves, but I've learned you just have to ask. There are so many authors in the world, but not many people can say they personally know one, so it adds a unique element, especially in my little town.
What feedback have you received so far on your book?
I feel so lucky because the feedback I have received has been great. I was fortunate to work with a very talented illustrator who did a fantastic job bringing Charlotte the Shark to life, so besides the story, the illustrations have been deemed just perfect. So many kids and adults seem to have fallen in love with Charlotte the Shark.
One of the best messages I received came from a woman I used to work with. Her daughter is currently in high school, but she's spending some time in a first-grade classroom to get a feel for teaching. She brought my book to read to the class and the teacher loved it so much that she built an entire lesson around it the following week! I thought that was really special. I've gotten quite a bit of feedback stating that it's a great classroom tool, which is so neat to hear. It shows that you don't need to be a parent to enjoy the story! I'm glad that it can be used as a teaching resource, too.
What do you know now that you wish you knew before starting the publishing process?
I had no idea how quickly the process could move. When both you and your publisher are responsive, things move very quickly! (This is a good thing!) As my book was a picture book, I wish I had mapped out my illustrations more thoroughly beforehand. Of course, things will come to you during the process and that's totally okay, but it would have been handy to have my ideas a little more organized.
Where can readers find you online?
I would love to have an author website soon, but until then, I can be found on Instagram or Facebook are the best contacts.
Is there anything else the world should know about you or your writing?
There's a reason the book isn't simply titled Charlotte the Shark. I would love to create a whole series revolving around Charlotte! Hopefully this isn't her only adventure.
In addition to another children's book, I have a novel I've been working on for many years. I always say that it doesn't matter how long it takes to do something, as long as you end up doing it. So though it may take a while, I'd love to publish it one day.
I wrote my first story on yellow legal paper in third grade. Here I am, twenty-five years later, having just published my first book. I hope it's an inspiration to others that if you truly want to achieve your goals, there's nothing that can stop you.
Want more about Catherine and her publishing journey? Charlotte the Shark hit the airwaves!