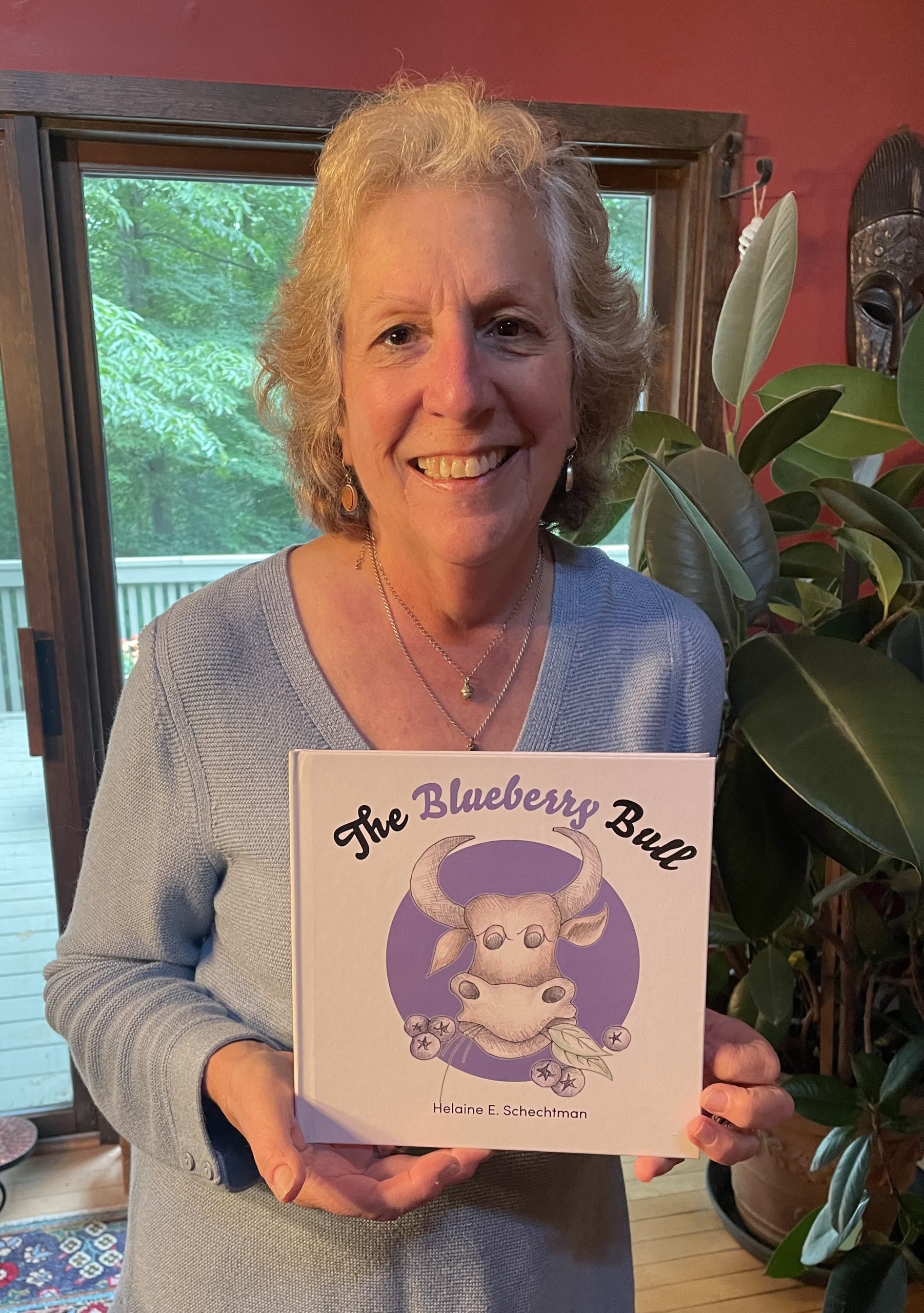 Sometimes, family stories grow larger than life. That's what happened to Helaine Schechtman. To keep the story alive and well, she turned it into an adorable children's book, The Blueberry Bull. Learn about her story and her process of writing and illustrating her beloved family story.
Tell us a little about you. Who is Helaine Schechtman?
I was a high school art teacher in New Jersey for thirty-eight years. I have a BFA in printmaking from Syracuse University and a master's from Rutgers. I live in Doylestown, Pennsylvania, with my husband and four dogs.
Give some background on The Blueberry Bull. What is it about, and what inspired the story?
The Blueberry Bull is based on a true story that happened to my dad back in the 1920s when he went blueberry picking with his brother. My dad always told me the story, which I then told my daughters and now my grandkids. I created the book as a way to honor my amazing dad.
You also illustrated your book. Tell us a little about this. Were you confident throughout the process or did you have doubt along the way? If you had doubt, what encouraged you to move forward?
Having been an art major in college, I felt confident about illustrating my own book. However, we can be our own worst critics, and I wasn't thrilled with all of the drawings. My daughters, husband, and Daniel at Argyle Fox Publishing offered the boost I needed to keep going.
How did you find Argyle Fox Publishing, and what made you think we would be a good fit?
I found out about Argyle Fox from a woman on a Facebook site who had wonderful things to say about Daniel and her experience in dealing with him. I thought I'd try, and everything she raved about was true!
Now that The Blueberry Bull is published, how will you measure whether your book is a success? What is your goal for the book?
In a perfect world, the book will sell loads of copies. However, I posted it on many sites, including the page of the high school I used to teach at. The feedback from friends, family, and past students has been amazing, and that is reward enough!
What are you doing to market your book and let folks know it is available?
In addition to posting it on tons of FB sites, I initially emailed every preschool, elementary school, book shop, and library in the immediate areas of the Berkshires (where the story took place), New Jersey (where I am originally from and taught, Pennsylvania (where I currently live), and western Connecticut (near the Berkshires). Now, I am expanding my reach to other areas and have offered my book to a company that writes reviews.
What feedback have you received so far on your book?
The book is just starting to really get out there, but the people who received copies early have really seemed to enjoy it. I have also heard back from places I contacted that they are adding it to their next order.
What do you now know about book publishing that you wish you knew before getting started?
For me personally, the writing and illustrating were easy. The marketing is very time consuming and can be overwhelming.
What would you say to other authors who have a great family story and aren't sure if it's worth turning into a book?
It's definitely worth giving it a shot. For me personally, just being able to tell my dad's story has been so gratifying.
Do you have another book in process? If so, do you mind telling us a bit about it?
At the moment I don't, but I am thinking about one. My daughter bred her dog, and all the pups were sold except for one. She can't be sold or bred because she has buck teeth. She is the sweetest dog in the world, and I'm sure would make a great therapy dog. I think there's a story there.
Where can readers find you online?
They can look me up on Facebook. All posts regarding my book are public and can be found under my name.
Is there anything else the world should know about you or your writing?
Having retired from teaching twelve years ago, there are times I feel as though I need a project. This has certainly been that. It's been fun, challenging, and very educational.
Thanks so much, Helaine, and here's to success!