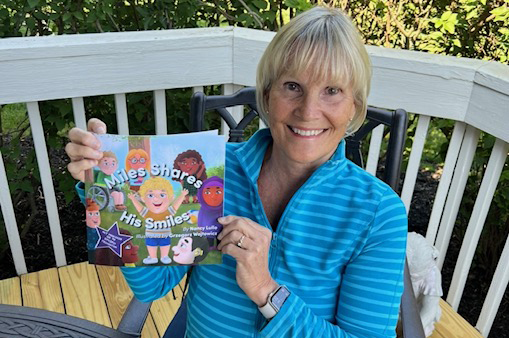 When Nancy Lullo approached Argyle Fox Publishing, we were intrigued. It was clear that she didn't write her book in hopes of becoming rich or famous. Rather, she wrote Miles Shares His Smiles to help others. Read below to meet Nancy and find out how she's helping further epilepsy research.
Before we talk about your book, tell us a bit about yourself. Who is Nancy Lullo?
I'm the mother of three young adult sons, the grandparent of a precious one-year old grandson, and wife to my husband of forty-five years. I grew up as a competitive swimmer in Illinois. I was later drawn to long-distance running, and I enjoy both activities to this day.
Trained in the field of special education, I served students with diverse and challenging needs and encouraged their families for over thirty years. Educating students in inclusive school environments and giving them equal access to all arenas of learning and instruction was most rewarding. Subsequently, I served as a Special Education Director in Illinois for a large, comprehensive school district. This was coupled with teaching at the college level as an adjunct professor at three different universities in Illinois for over a decade. These experiences provided several opportunities for me to teach reading and cultivate a love of using children's story books as instructional tools in the classroom.
What inspired you to write Miles Shares His Smiles?
My Grandson, Miles, is the true inspiration for Miles Shares His Smiles. When Miles was diagnosed with epilepsy as an infant, the vision of writing a book in his honor was important.
Despite the many challenges he has experienced, he continues to smile and to bring joy to everyone in his life.
What is Miles Shares His Smiles about, and what were your initial plans for the book? Did you always plan to publish?
Miles Shares His Smiles is about the everyday adventures of a little boy who helps increase social-emotional interactions, awareness, diversity, and inclusion by simply sharing his smile with other children.
How did you find Argyle Fox Publishing, and what made you think we would be a good fit?
I found Argyle Fox Publishing online through another author who was using this publisher. I knew Argyle Fox would be an excellent fit after communicating with Daniel Brantley. Right from the start, he encouraged and supported our project, which is committed to donating net proceeds to the Epilepsy Foundation of Greater Chicago.
You have a unique purpose for your book. Talk about that and share how you will determine whether Miles Shares His Smiles is a success?
The purpose of writing Miles Shares His Smiles is to help spread epilepsy awareness and encourage all extraordinary families while bringing additional hope and healing to them.
By donating the net proceeds of this book to The Epilepsy Foundation of Greater Chicagoland, the result will be increased research and funding for epilepsy. There is no greater success that could result from this book than this outcome.
How are you marketing your book and letting people know it's available?
Marketing for this book is being done through the Epilepsy Foundation of Chicago's special events, which we are invited to. I'm also marketing through social media—Facebook and Instagram accounts, both personal and professional.
What feedback have you received so far on your book?
Feedback has been strong to date, including earning two Amazon ranking for Children's Books on Disabilities—it was named the #1 New Release and as of September 9, 2023, it was the #4 Best Seller.
Several friends, family members, co-workers, and others have purchased books for themselves and their children, grandchildren, and friends challenged with epilepsy.
The illustrations by Grzegorz Wojtowicz are so sweet! How did you connect with him, and what was the process like working with him?
I connected with Grzegorz Wojtowicz online through Instagram. He was working with another author, and I noticed his work and style and loved it from the first view! Working with him was a joy! His talent and passion for drawing brought each character to life. He accommodated every suggestion and integrated his vision by connecting the storyline to the people!
The end result was warmth, love, and connection!
What do you now know about book publishing that you wish you knew before getting started?
Working with an excellent publisher like Argyle Fox makes the process seamless. Argyle Fox Publishing took the lead to communicate necessary requirements and timelines. Most importantly, Argyle Fox took genuine interest in the project and made recommendations for the outcome of the book that will be long-lasting and heartfelt by many readers.
What advice to you have to other writers who aren't sure if they should publish?
Don't wait! If you have an idea and are passionate about writing a story, do it!
Start taking notes and keep your goals in mind. Contact a publisher like Argyle Fox Publishing. Ask questions, and with the answers you receive, reflect and make the decision that is close to your heart!
Do you have another book in process? If so, do you mind telling us a bit about it?
A series is being considered at this time.
Where can readers find you online?
Readers can find me online at nancylullo.com and on Instagram.
Is there anything else the world should know about you or your writing?
Simply write from your heart. Your experiences will guide you!
As a parent and as a teacher, I read constantly to my children and students. I loved to teach my children and hundreds of others to read. Those experiences provided the drive and goal to write my own children's storybook!
Thanks so much, and here's to success!