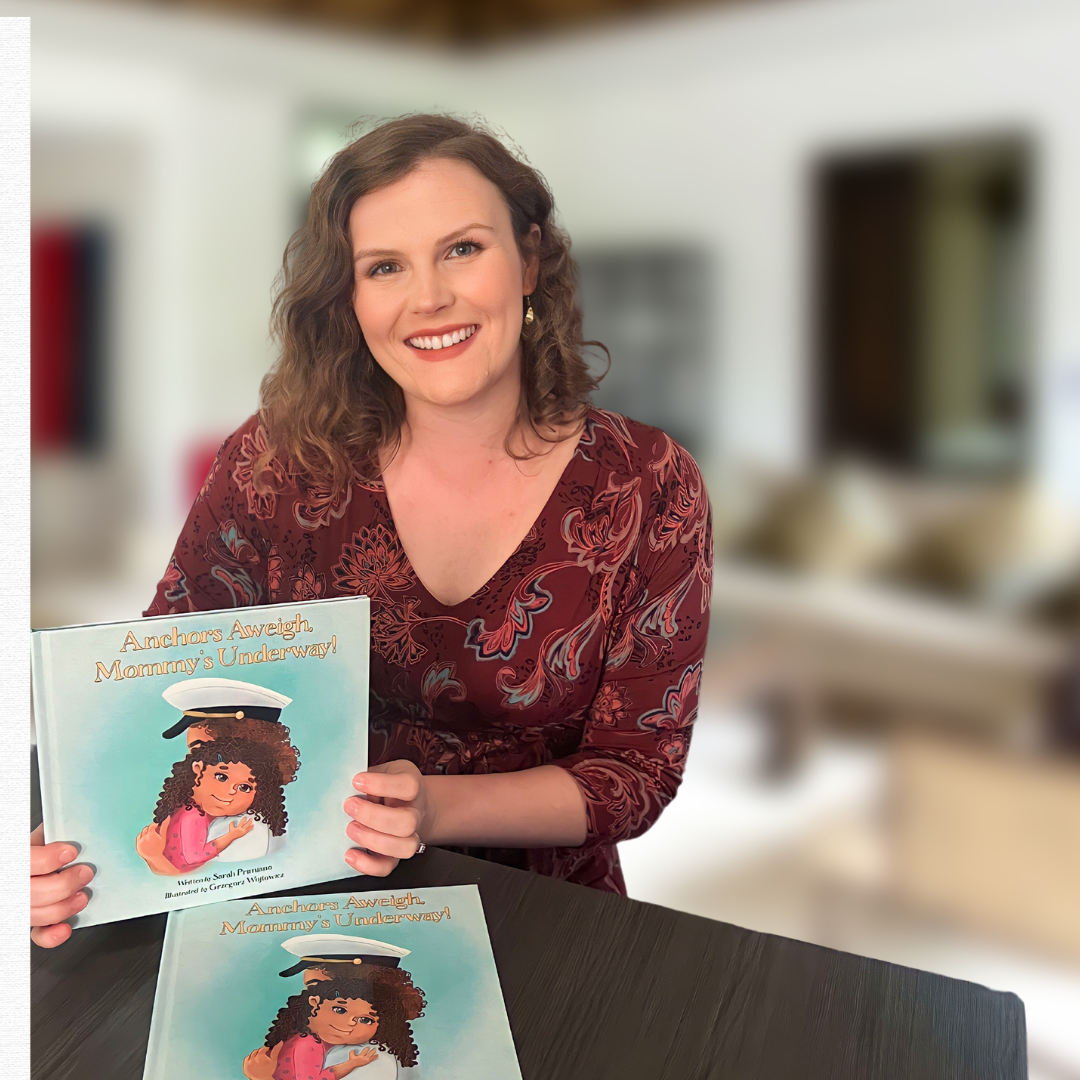 Life in a military household comes with unique obstacles and joys. Author Sarah Primiano brings these to light in her first children's book, Anchors Aweigh, Mommy's Underway. Get to know her and her book and learn what she wishes she knew before publishing.
First off, let's talk about you. Who is Sarah Primiano?
I am a mother of an 8-year-old son who has recently become very mobile around the house. I am also a Navy military spouse, and we've been stationed in Norfolk, Virginia, for the past three years, though we will be relocating to Texas by the end of 2023. I am lastly a pediatric speech therapist. Speech and language therapists provide treatment, support, and care for children and adults who have difficulties with communication, eating, drinking, and swallowing. I love empowering families and children to express their thoughts and ideas with the world! One of my favorite ways of promoting language development is using children's picture books.
I've always loved telling and writing stories, and that's where I came up with the idea of writing my own.
Tell us a bit about Anchors Aweigh, Mommy's Underway. What is it about and what inspired the story?
Anchors Aweigh, Mommy's Underway features a young girl whose mother is in the US Navy. When her mother goes away at sea, the young girl and her father learn to cope with her mother's absence, as she and her father share some love and laughter along the way. It's a story that highlights the challenges military children face, along with the triumphs.
It can be difficult for a child to experience parental separation, and this story illustrates that as long as family sticks together, they can overcome anything!
My own personal experience inspired the story. My husband has been away on two deployments, and I didn't have kids during those times. I had two dogs, and that was challenging enough. While working with families in Norfolk, Virginia—which has the world's largest naval base—I met many children who were experiencing hardships with military life. I felt inspired by their strength and resilience to share their story through my fictional character named Maya.
What was your writing process?
I first wrote the story in one quick writing session on my phone, while my newborn napped in my arms. Afterward, I tinkered with it for a couple of months before reaching out for feedback and eventually contacting Argyle Fox Publishing to seek help on publication.
Overall, my process was rather short due to excellent communication with my publishing company and illustrator. I had a unique experience as an indie author working directly with my illustrator, Greg, to bring my story to life. Greg went above and beyond in doing so, and I am so thankful to have found him!
When did you realize you had something special that was worth publishing?
As soon as I wrote my story, I felt like Maya's story was worth sharing. Military children face such unique challenges in military life, and I felt like their stories were worth sharing by publishing my story.
How did you find Argyle Fox Publishing, and what made you think we would be a good fit?
I joined several Facebook children's author support groups and noticed authors mention Argyle Fox Publishing multiple times. I contacted many other publishing houses before discovering Argyle Fox Publishing but was disappointed by the price to pay to publish my book. Even though I had found my own illustrator and already paid for my illustrations, a lot of publishing companies wanted to charge an arm and a leg to publish my book.
I was warned to stay away from vanity presses, but when I met Daniel with Argyle Fox Publishing, I was relieved to see reasonable prices, quick turnaround, amazing communication, and adjustment on my payment because I had my own illustrations. I am so thankful to have found Argyle Fox Publishing, especially being a first-time author! I learned so much about the publishing process along the way.
Now that Anchors Aweigh, Mommy's Underway is published, how will you measure whether your book is a success? What is your goal for the book?
Now that depends on how one defines success! A lot of authors look at Amazon reviews to determine their book's success. Although I've found success selling copies online, I've considered my publication a success when I'm at in-person events meeting military families who smile when they see my book and say, "Wow! This is relatable. We've got to buy this." I especially consider it a success when families ask about my experience. I get to share my story of being a military spouse, and in return I get to hear their experiences. I've found that there are so many varying experiences with military life.
When I see how my book has brought connection to so many different families, that is a success to me. My personal goal for my story is to continue establishing that connection, to honor military families, to teach and educate others about military children's challenges and triumphs, and to promote positive reading experiences with young readers.
Your illustrator, Grzegorz Wojtowicz, has such a lovely style. How did you find him, how does his work match with your vision of the characters, and what was the process of working with him like?
Having joined several Facebook children's author support groups, I was looking for an illustrator for my story. I created a post with details of what style I was looking for and a general idea of what my story was about. I then received hundreds of responses from illustrators interested.
Although I was impressed with a lot of illustrators, none of them seemed right for my story. I found another author's post looking for an illustrator and found Greg's comment. I visited his page, and as soon as I saw his work, my jaw dropped! I just knew he was perfect for my story. I contacted him, and he offered to work up a sample scene. From there, it was smooth sailing.
I described characters and scenes, and since Greg lives outside of the United States, I sent pictures of my husband's Navy homecoming to give an idea of what the pier and homecomings look like. Since my book actually takes place in Norfolk, Virginia, I also sent Greg pictures of locations I wanted to feature, and he did so well incorporating them into the story!
It was a seamless process working with Greg. He was always available, responsive, and passionate about bringing my characters to life.
I know you've promoted your book on via social media. How effective has that been thus far, and are you doing other things to market your book?
I was once told that finishing writing your book is about two percent of publishing your book. The rest is promoting and marketing.
My main way of doing that has been social media. Using social media for promotion has been so effective and educational! I've followed other authors going through their journeys and have learned so much about publishing and promoting my book.
For Veteran's Day, I collaborated with other authors who have written military-themed books to do a huge giveaway! We received a lot of notice in this giveaway, and the best part is that someone super lucky got to win 6 FREE military-themed books to honor Veteran's Day. I honestly wouldn't be where I am without social media.
What feedback have you received so far on Anchors Aweigh, Mommy's Underway?
I have received overwhelmingly positive feedback on Anchors Aweigh, Mommy's Underway! A lot of readers are praising the representation of military family life, particularly with a maternal role serving the country and going away at sea. In addition, readers have praised the depiction of a father taking on a more nurturing role with his daughter during times of parental separation. You can see this throughout Anchors Aweigh, Mommy's Underway, as the young girl's father spends time with Maya, doing things that her mother usually did. He helps Maya with her hair, plays dress up, and tries to get her to school on time.
I find the little girl's relationship with her father heartwarming, and her father as a character is so relatable. He's a man trying to do what's right for his family. He truly steps up while his wife is away at sea, and instead of "shutting down" when he experiences difficulty adapting to this new role at home, he leans into the challenge with laughter and love.
What do you now know about book publishing that you wish you knew before getting started?
The importance of having a marketing plan! When I first got started with Anchors Aweigh, Mommy's Underway, I read and heard how crucial it is for a book's publication success to have a marketing plan. I used social media to promote my book, share my publishing experience, and build my presence, but now as I am progressing as an indie author, I like to plan a bit more on what content I share with readers.
I think having a solid marketing plan will help you stay consistent in connecting with readers and other authors, as well as promoting your book without flooding readers' feeds.
What would you say to other authors who have written great stories and aren't sure if they should publish?
It's important to consider whether you are in a good place to publish a book. A year ago, I would not have physically been able to put much time into publishing, as I was working full time and had a lot of other things going on in my life. Publishing a book is a LOT of work, especially if you're looking into the self-publishing route. So, if you have a great story you'd like to publish and have decided you are 100 percent willing to dedicate a lot of time prepping, planning, and marketing your book, go for it! It's hard work but so personally fulfilling to hold your own book in your hand and even more fulfilling when you see it in readers' hands!
Another thing I'd say is try not to be too hard on yourself. It was easy for me to compare my publishing journey to other authors' journeys, but that was unfair of me since those authors already published books or took different routes. Everyone's journey is unique, and we all have to start somewhere. Don't let that discourage you from making your dream of publishing a great story into a reality.
Do you have another book in process? If so, do you mind telling us a bit about it?
I do! I am working on another children's picture book, but it's very different than Anchors Aweigh, Mommy's Underway. Think fairytale, magic, enchanting bedtime stories. There are unicorns, forest gnomes, mushrooms—cottagecore vibes! It features a young girl whose bedtime is up, but she isn't quite ready for bed yet. She takes the reader along an enchanting midnight dance through a dreamlike woodland landscape, where her imagination has no bounds. Think The Nutcracker and Where the Wild Things Are. I am currently in the process of finishing interior illustrations and working through the book's cover.
Where can readers find you online?
I am active on Instagram and Facebook.
I love sharing tips and tricks with parents, educators, and speech therapists about childhood language development, sharing other books, and sharing my process of publication as I release more children's books in the future.
Is there anything else the world should know about you or your writing?
I just want to say thanks again to Argyle Fox Publishing for all their help in making my dream of publishing a book a reality, as well as helping me out after my book was published. I couldn't recommend their publishing services enough for authors who may be new to publishing or are looking for a publishing company. My illustrator is also on Instagram. Go check out his amazing work! I couldn't thank him enough either, as he played such a crucial role in helping bring Anchors Aweigh, Mommy's Underway to life.
Thanks so much, and here's to success!