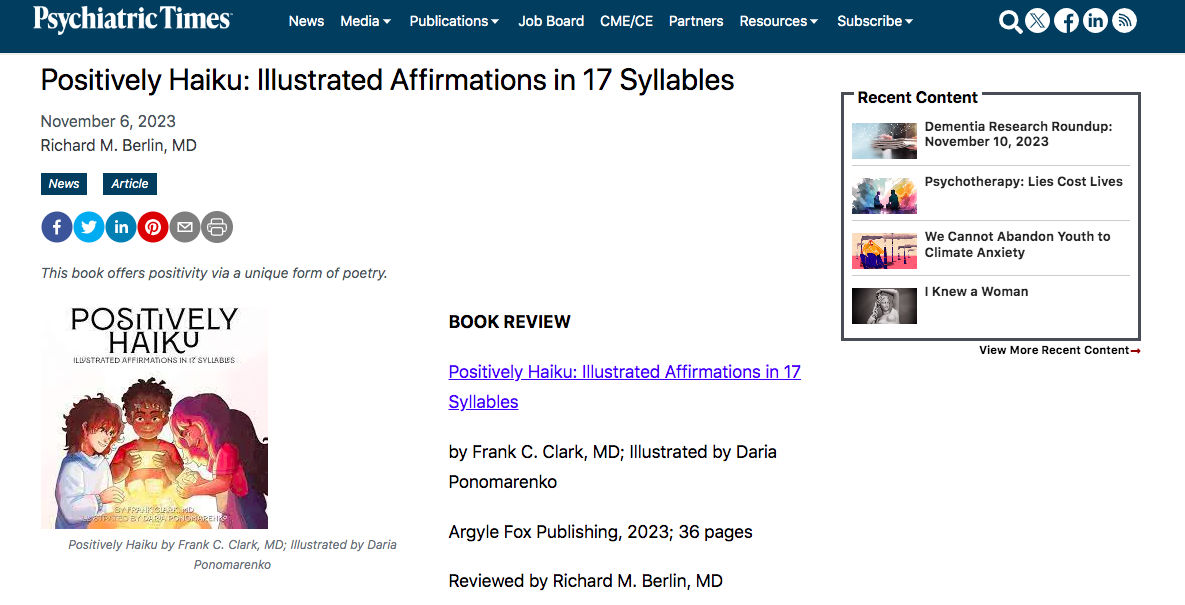 From its release date, Dr. Frank Clark's Positively Haiku: Illustrated Affirmations in 17 Syllables has received rave reviews. Most recently, it garnered press from Psychiatric Times.
Why Psychiatric Times? Dr. Clark is a psychologist who lives and practices in South Carolina.
What They Had to Say
This review goes above and beyond. In it, Dr. Richard M. Berlin starts with a brief, informative history of the haiku. He quotes from some of the first haiku ever written, traces the form's lineage to non-Japanese practitioners, and even quotes from the late Beat novelist and poet Jack Kerouac.
Dr. Berlin then discusses Dr. Frank's book, stating that he "created a brilliant new way to use haiku in his book Positively Haiku: Illustrated Affirmations in 17 Syllables." Couldn't have said it better ourselves.
Congrats, Dr. Frank, on more great press for a wonderful book!
Now It's Your Turn
If you're looking for a creative way to encourage the youngsters in your life, grab a copy of Dr. Clark's gorgeous picture poetry book. Want to be the one getting rave reviews for your book? Take the first step toward getting your book off your computer and onto bookshelves. Submit your book for consideration today.