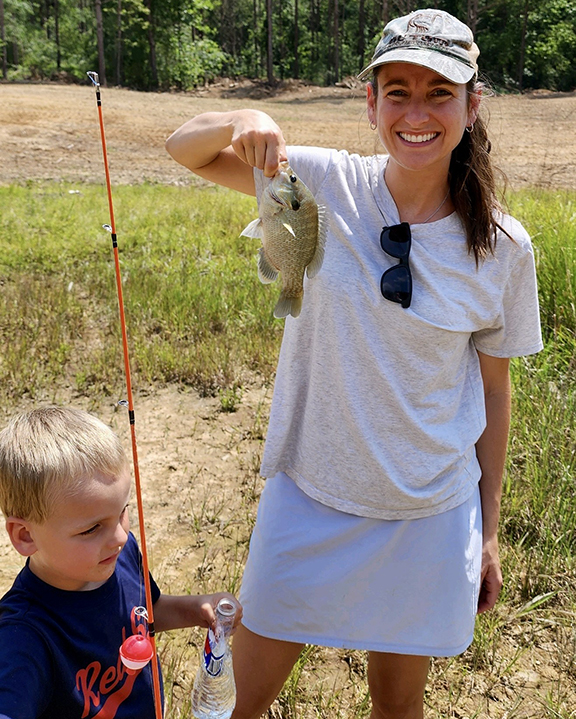 When Chattanooga resident Betsy Hibbett first came to Argyle Fox Publishing in 2022, we were thrilled with her story. Coupled with Elena Vorobeva's illustrations, Backyard Breakfast was an instant hit. Since then, she's published two more with us. The latest is Little Fishermen, a wonderful book that celebrates fishing as a family.
As a mother and author, Betsy is just as busy as you would expect. Fortunately, she was gracious enough to find a few minutes to answer some questions.
Betsy, first off—congratulations on publishing your third book. This one took a bit longer than usual, but it turned out gorgeous. Tell us a little about Little Fishermen. What inspired this book, and do your little ones enjoy fishing?
Thank you! I am excited to see this one in print—and it's my boy's current favorite. Yes, I live in a household of fishermen. I'll wet a line, too. However, I usually just bring the snacks.
My boys wanted a book about fishing, and making that happen for them was lots of fun. [As for inspiration,] I just watch them doing what they do, and the words follow.
You have a knack for making everyday moments full of joy and meaning. What's your secret, and how can other writers do the same?
That's the best compliment ever. Thank you! The everyday moments are what add up to a special life. Putting the phone away and paying attention is my only piece of advice there. (Of course, that's easier said than done—at least for me!)
Your book just released, but what are your plans to get all three of your books in readers hands? And what is some of the most memorable feedback you've received from your books?
My favorite way to market the books is by doing readings in schools. I love seeing reactions to the books straight from the kiddos, and their feedback has been some of my best.
My favorite bit of feedback was when a little boy wished I had included a cow in Backyard Breakfast and had ended the book with a hamburger.
Is there a fourth book up your sleeve? If so, can you give us a sneak preview?
I'm always writing stories, so we shall see!
Is there anything else the world should know about you and your sweet picture books?
Thank you, Daniel, for all you do. If anyone is looking to take the plunge into publishing their own books, I can't say enough wonderful things! He is patient and thoughtful throughout the process and you will not be disappointed.
You're always so kind. Thanks again, and here's to lots of little hands grabbing onto Little Fishermen!