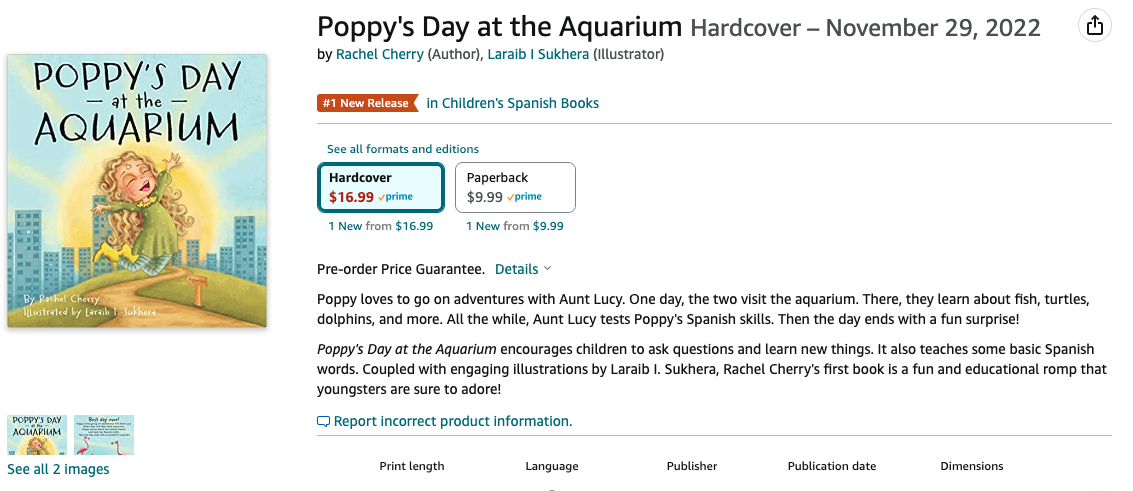 Rachel Cherry's delightful picture book, Poppy's Day at the Aquarium, is two weeks from its release date and has already gotten lots of attention. In fact, it's gotten so much attention that it earned Amazon.com's top spot as the #1 New Release in Children's Spanish Books.
A Fun Dia
Rachel's book follows the lively Poppy, as she and her Aunt Lucy head to the local aquarium. There, they see a number of watery friends and talk with Mr. Henry. The whole time, Aunt Lucy tests Poppy's Spanish knowledge.
With gorgeous illustrations and great writing, Poppy's Day at the Aquarium is sure to be a hit with little ones. And after begging you to read it just one more time, your favorite youngsters will have a few Spanish words up their sleeves and be ready to learn more!
Books that Speak Your Language
If book publishing seems like a foreign language to you, don't sweat it. Argyle Fox Publishing exists to turn writers into published authors. If you've got a great manuscript and don't know what to do next, take a look around our site to see if we would be a good fit. If you like what you see, submit your manuscript today for consideration!