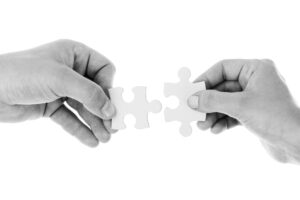 Do Something
Want to sell books? Hoping and dreaming won't get you anywhere. If you only remember one of these book marketing tips, make it this one.
Because no matter how great your book is, people won't buy it if they don't know about it. Since your book solves their problems, helps them get a new perspective on life, or makes them chuckle, they need your book. So market, and market often!
Let the other guy hope for book sales. You're smarter than that. You're going to dig in your heels and advertise.
Know Your Audience
Before you can advertise your book, you need to know your target audience. Who is most likely to read your book? And don't say your book is for everyone. Because it's not.
Sure, everyone who reads it may like it. But who's most likely to read it in the first place?
Figure out who that person is. Figure out where they hang out (physically or online) and how they talk. Then go to their hang-outs and talk to them in a way they'll appreciate.
That, in a nutshell, is what marketing is. Finding your audience and talking to them in their native tongue.
Get Social with Your Book
When it comes to book marketing tips, social media is likely the most fun technique. It's not just fun. Social media is a great medium for book marketing.
Already have a great following? Tell your followers about your book. It's almost too easy!
But don't get disheartened if your social media following is tiny. There are other options. After all, there are plenty of folks out there with solid followings. These are the people referred to as influencers.
Get on social media and find influencers in your niche. Write a Christian parenting book? Find Christian moms and dads who get a lot of engagement. Follow them. Engage with their posts. Leave comments. Respond to their stories.
Once you've spent some time interacting, send them a private message. Tell them you wrote a book that you think they would like, and you would like to send them a free copy. All you ask is if they like the book, they mention it on their social media.
You won't get responses from every influencer. When you do, their promotion of your book can have a dramatic result on your book sales.
While bigger influencers are best, they're less likely to respond when they have a gigantic following. As a rule of thumb, aim for influencers who get 200 to 1,500 likes on each post. But likes aren't the best indication of an engaged audience. Look for influencers who get lots of comments on each post. The more, the better.
If you send a book to an influencer, don't end the relationship there. Keep responding to their posts. Engage with their community. And if they don't mention your book within a month or two, drop them a quick note to make sure they got it.
Use Traditional News
A list of book marketing tips wouldn't be complete without old-school news coverage. No matter where you live, there is some sort of news source. It may be a newspaper, a TV channel, or a radio station. Whatever's available, they're always looking for local stories. Since you wrote a book, you are a local story.
Reach out and tell them about your book. Explain that you'd love to be interviewed to discuss it. Most likely, you'll receive a warm welcome.
Then go to the interview prepared. Don't expect to have limitless time. Be able to explain your book in two or three sentences and tell the easiest way to buy it. Have a few copies of your book on hand. Leave copies for your interviewer and others at the station. These people have connections, and may mention it off air to their friends if they like it.
Try Paid Advertising
While free is great, sometimes you'll need to pay for your marketing efforts. You can hire an agency to do it for you. Or you can do it yourself.
Thanks to the internet, you have a million ways to manage your own paid advertising efforts.
You can use Google Ads. Pay for paid reviews from Kirkus and other organizations. Advertise on Facebook, Youtube, Instagram, and beyond. There are even ways to advertise your books on billboards, spending only as much as you want.
Publishing a public domain book? If you've got a great cover, paid advertising can put your version in front of the right people and lead to more sales.
Take Your Book to Market
Conferences and seasonal markets are a great way to put your book right in front of readers. No matter your book topic, it will fit in at some conference.
One of the most obvious conferences for your book is a book conference. Don't get pigeonholed there. Think about your target audience. What markets or conferences do they attend? Be there!
No matter what, a holiday market is a great place to set up camp. You'll meet people, sell some books, and have a great time. Some authors have even set up flea market booths. Just be creative and get wherever readers congregate.
Start Early and Keep at It
Focused marketing efforts on the front end will help your book launch go well. However, marketing doesn't end after publication date. It's an ongoing effort.
Publish your book months or years ago? It's not too late to get the word out.
Start marketing today, and you'll start seeing sales. If what you're doing doesn't work, try something else. Every good book has an audience. Keep looking until you find it, then tell them about your book over and over and over. That's how book sales happen.
Book Marketing Tips
Want more specific book marketing tips for your book? At Argyle Fox, we don't market books. We do, however, give specific tips to our authors. They then use those tips to put their books in readers' hands.
Sound intriguing? Learn more about what you can expect from your investment with Argyle Fox Publishing.