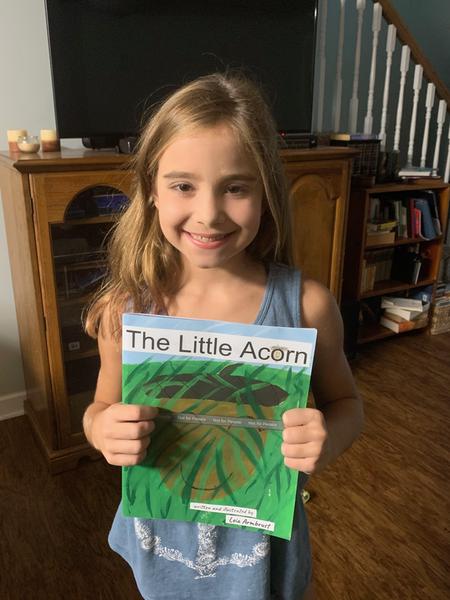 Extra, Extra, Read All about It!
Argyle Fox Publishing author Leia Armbrust created a fun and thoughtful picture book that's turning heads. Check out this great story about her book, published in The Lancaster News. 
5th grader publishes 'The Little Acorn'
When Leia Armbrust wrote a story for school last year, she didn't think much about it. This year she could be making money off the tale.
The 10-year-old Leia has published a children's book entitled "The Little Acorn," which is on sale through Amazon for $9.99 in paperback. The 24-page book took nine months to complete from the initial story to it getting published earlier this month.
Leia is a fifth grader at Kershaw Elementary School. The story is about an acorn that has a life with her mother and siblings, but gets carried to a new land where she is alone. The acorn has to learn to adjust and eventually grows up to be a mom herself.
Leia's mother, Cami Armbrust, said she knew her daughter was onto something when she first read the story.
"It was actually a really great story," she said.
The story was good enough that Cami showed it to some teacher friends of hers, who suggested that Leia turn the story into a book.
The idea for the book came to Leia as she was riding in the car one day looking at the trees outside.
"I like writing a lot," she said. "It brings out my creative side. It makes me feel like I can go places."
Leia illustrated the book with the help of a high school student she was taking art lessons from. Once COVID-19 hit, the project got delayed and Leia struggled to finish the book.
"There were some times she said she didn't want to do it," Cami Armbrust said. "But her father and I knew this had potential."
Leia said illustrating the book was harder for her than the writing, which seems to come naturally to her.
"For a while, I kept trying to get out of painting," she said.
One thing that helped her was imagining going where she was painting.
"It feels like where I wanted to go," she said. "Plus I can paint where I want to go and go there."
When the book was finished, Cami contacted a friend who owned Argyle Fox Publishing Co., which ended up publishing the book.
Once the book was in the hands of a publisher, Leia had to add some pages to the book, but didn't take the advice of the publisher.
"The publisher had given her some suggestions, and she just did her own thing," Cami said. "It was 100% hers. The story was her ideas and writing."
Order your copy of The Little Acorn.
Originally published on September 26, 2020.