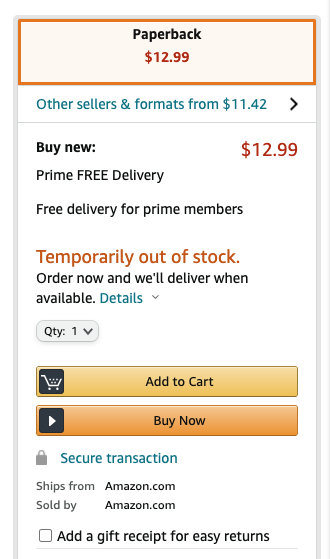 You published your book, and it's out of print. What now?
Many concerned authors have asked this question over the years. Here's the answer.
When Ingram Spark prints your book, they also distribute it. However, that doesn't mean it's instantly available. It means they make it available to resellers.
At Amazon.com, Amazon may purchase your book to resell. But Amazon isn't the only seller there. Individual entrepreneurs and book resellers may also buy your book to sell. The same is true at Walmart.com, Target.com, BooksAMillion.com, BarnesAndNoble.com, and more.
If they don't buy your book to resell, there won't be any books for people to buy at Amazon. When this happens, you'll get the dreaded "Temporarily Out of Stock" message on your book listing.
How do you convince Amazon or other resellers to buy your book?
The only reason resellers buy your book is to sell your book. To convince them to do this, you'll need to make it worth their while. That means making sales, which brings us to another question…
How can you make sales without having a book in stock?
Ask family and friends to buy your book. Beg them if you must. Reimburse them if you have to. Just get them to buy the book on Amazon.com. Then have them leave a review. A sincere review that tells their honest opinion. 
Once you rack up a few sales, resellers will start to notice. Sell enough and they'll decide to buy a few to resell. Because when people start buying your book, resellers will want a piece of the pie.
Get some reviews, and readers take notice. That's when things really start going well. Again—these need to be genuine reviews. Don't feed your reviewers what they should write. Don't ask for glowing reviews. Ask for sincerity. If they like you and the book, the review will glow.
A tricky workaround to the problem. 
Hungry to have your book not say "Out of Stock" on Amazon.com or other online retailers? Then print your book through Amazon's KDP.
As Amazon's printing service, KDP ensures your book is always available for immediate fulfillment. Because when your book is ordered, they print it and ship it.
At Argyle Fox Publishing, we use Ingram Spark for printing and distribution. However, if requested, we work with authors to use KDP alongside Ingram or on its own.
Just remember—this workaround won't cause you to suddenly sell books. 
Of course, having your book readily available will help with sales. But it won't fix everything. You're still responsible for beating the pavement and convincing people that they need your book. And your pitch needs to be better than "you can order it right now."  Be passionate about your book and tell everyone you meet how great it is. Do this convincingly, and you'll never see "Temporarily Out of Stock" on your book again.
Ready to put your book in readers' hands? We'll take your manuscript and turn it into a physical book that is as beautiful as the words you've written. Take a look around to learn more about how we do what we do and why.