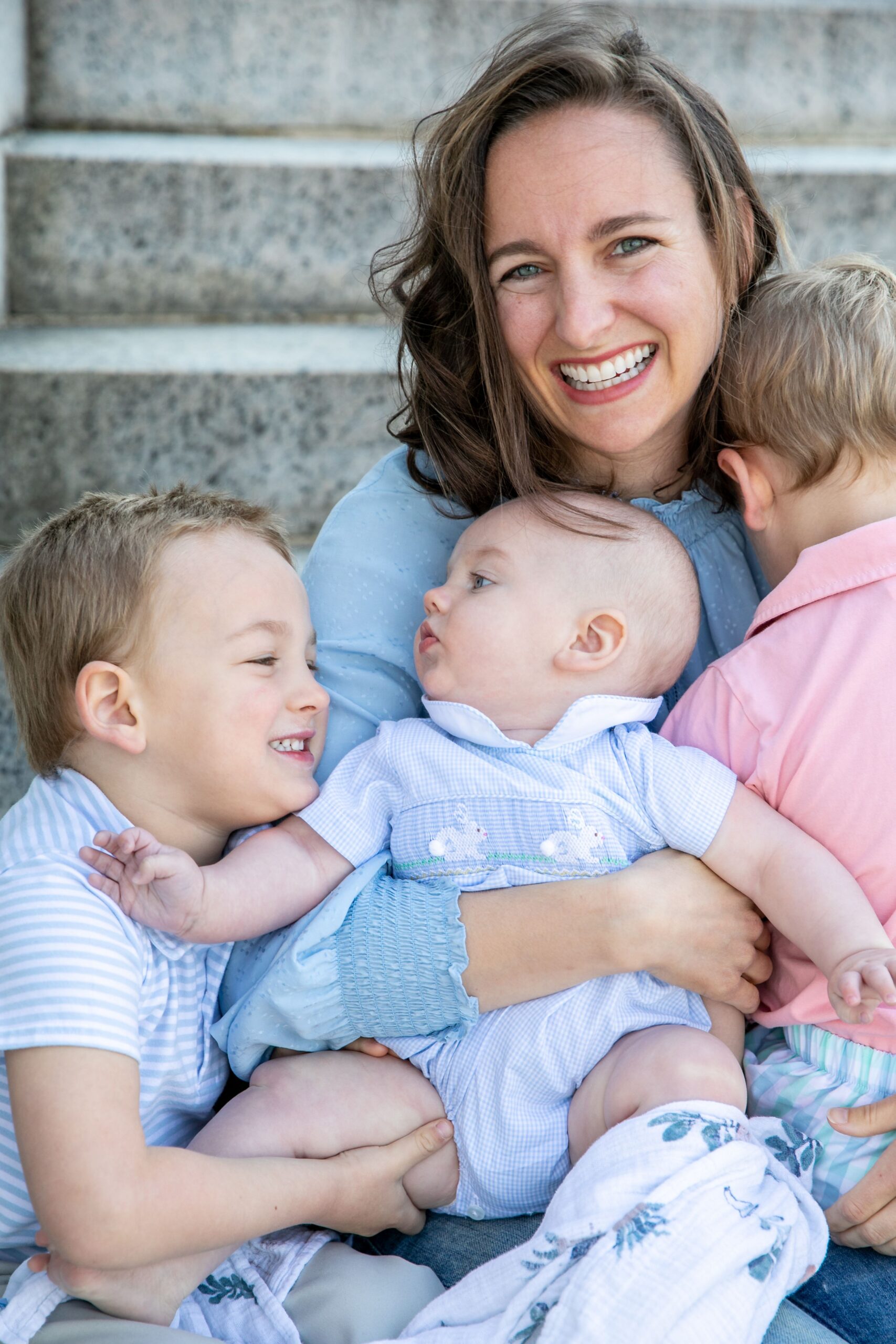 When Betsy Hibbett reached out to Argyle Fox Publishing, she wasn't sure what to expect. Following a phone call, she felt comfortable with what we do and decided to go for it. The end result is Backyard Breakfast, a fantastic picture book that is sure to get kids in the garden.
Keep reading to learn about picture book author Betsy and her experience with Argyle Fox.
First off, tell us a bit about yourself. Who is Betsy Hibbett?
I'm a former TV reporter turned stay-at-home mom. I live in Chattanooga, Tennessee, with my husband and three little boys. We try to be outside as much as possible. There's less fighting that way!
When, where, and why did you start writing? Do you have a writing routine? If so, tell us about it.
I don't have any writing habits now. I wish I did. Ideas for children's books come in a quick burst, and I write them down in one sitting, similar to what I did for a news story. Turning one or two quick-paced stories a day to make it on air by the evening news makes you a fast and (hopefully) creative writer.
What inspires you to write?
Everything!
Who are your favorite authors and what do you enjoy about their writing?
For adults, I love historical fiction. Kristin Hannah and Ruta Sepetys are two favorites. Ruta wrote Between Shades of Gray. I think it's in the young adult category, but it is for everyone. I just finished Growing Season, an autobiography by Sarah Frey, and loved it.
In children's, I currently love Chris Van Dusen and Ross Burach.
Where did you get the idea for Backyard Breakfast?
Our former backyard! We had a big garden, chickens, and bees!
Walk us through the process Backyard Breakfast went through prior to reaching Argyle Fox Publishing.
I wrote it in one sitting and then read it out loud over and over to make sure it worked.
Did you always think you had something special with Backyard Breakfast or were there moments of doubt?
There are moments of doubt when you're putting anything out into the world! I think that it's human nature to be worried about how others will receive things you create.
As a picture book, Backyard Breakfast was obviously written for children. What do you hope they get out of it?
I hope children enjoy seeing something they can do reflected in the story. Whether they have a big backyard to recreate everything or just a pot on a porch (which we currently have), they can incorporate elements of bringing the outside in for any meal—through food, herbs, or flowers.
What are your hopes for Backyard Breakfast? How will you measure whether it is a success?
To me, it's already a success. Half the battle was putting in the world. (See the answer on doubts for more information!)
How did you find Argyle Fox Publishing, and what made you think we would be a good fit for your book?
I found Argyle Fox through Instagram. I'd already interviewed a few other companies, and the connection with Daniel was the easiest, and I just went for it after the initial conversation.
What do you wish you'd known about the publishing process before getting started?
To not take it so seriously.
Talk about your illustrator, Elena Vorobeva. How did you choose her and what how do her illustrations compare to your vision?
Picking the art was my favorite part of the process. I think Elena's drawings are dreamy and old-fashioned. They perfectly capture the essence of a little boy. Working with Elena has been a joy. She made the vision come to life.
You already have another book in process with Argyle Fox Publishing, Backyard Explorers. How do you continue finding creative ideas that work well as children's books?
I have three young children, and we read through books at a voracious speed. I'm always looking for books about the things we enjoy doing.
You did a lot of work to help your book release go well. Tell about what you did, what worked and what didn't, and how book sales are going so far.
Being a former reporter who received lots of press releases back in the day, I knew that was where I needed to start. I wrote a release and sent it to all the local news outlets one week before the release day. I was lucky to land a few. I also planned a launch party and let people know we would be ordering the book together during the pre-sale period.
All published authors know getting reviews is really tough. Any tips for your fellow writers?
Write because you love it and write what you enjoy.
Where can people find you online to keep up with your life and/or writing?
Betsyhibbett.com and @betsy_hibbett on Instagram.
Is there anything else the world should know about you or your writing?
Hopefully there will be many more books to come.
Thanks so much, and here's to continued success!
Have you written a picture book that should be on bookshelves? Let us help! Submit your manuscript today to get started.