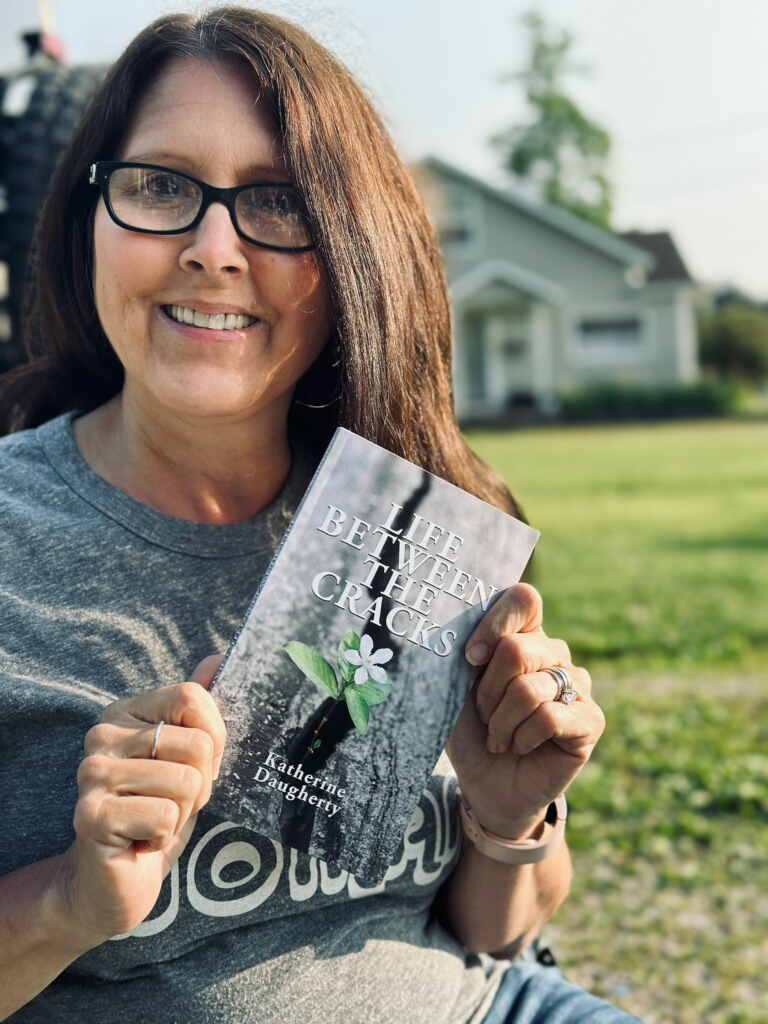 When Katherine Daugherty came to Argyle Fox Publishing, she was already a published author. So, she knew what to expect. She was just hoping for something different this time around.
Keep reading to learn more about Katherine and her publishing journey.
Let's get started learning about you. Who is Katherine Daugherty?
I am a mother of three kids: a daughter and two sons. I have been married for thirty-six years to my husband, Todd. I am presently employed at a prison where I work in a special-needs unit. I am a member of LFCC and love serving our risen Savior. I love to read and write and walk everywhere!
Life Between the Cracks is a rather unique book. Tell us a bit about the book and what inspired the story.
I didn't really set out to write again. It just happened. I started out with several jumbled chapters. As I put them together, I realized I could build a book from them.

This isn't the first book that you've published. What is your writing process? Do you have a routine, or do you write when inspired?
Well, it is a little of both. I read a lot and I journal a lot. These two things put together are the perfect storm.
How did you find Argyle Fox Publishing, and what made you think we would be a good fit for Life Between the Cracks?
My first publisher (with my first book, Breathe) was a nightmare. That said, I knew that I would not be choosing them again. I started researching book publishers and as I did this, I came upon the book You Will See. I saw that this author (Sarah U. Buck) had chosen Argyle Fox as a publisher, so I purchased her book and read it. Seeing similarities in our writing styles, I submitted my book for review.
Now that Life Between the Cracks is published, how will you measure whether your book is a success? What is your goal for the book?
First, my book is already a success. Second, anything that brings glory and honor to God is a success for me.
What are you doing to market your book and let folks know it is available?
Not a whole lot. I am hoping to get some book signings as well as attend some bazars. I am from a small town and there is not a lot of exposure.
What feedback have you received so far on your book?
My family has been extremely supportive, and they have all expressed that they enjoyed the book very much. Externally I have not gotten much feedback. Considering it is new, I am hoping to hear many good things soon!
After publishing a couple books, what advice do you have for writers just beginning their publishing journey?
Follow your heart. I am not always sure if I am making the right decision or not, so I pray about it and after some time I feel it in my heart that I need to just go for it. In my personal life I often feel misunderstood. When writing, I don't have anyone talking back to me—it's all my own thoughts. Writing is a safe venue for me to express myself.
I am willing to stand behind anyone and their dreams!
Where can readers find you online?
I have Instagram but primarily use Facebook as my connection to social media. I would be excited to become friends with fellow writers!
Is there anything else the world should know about you or your writing?
I would stand behind my decision to go with Argyle Fox Publishing and encourage anyone considering publishing a book to take the plunge with them!
Thanks so much, and here's to success!