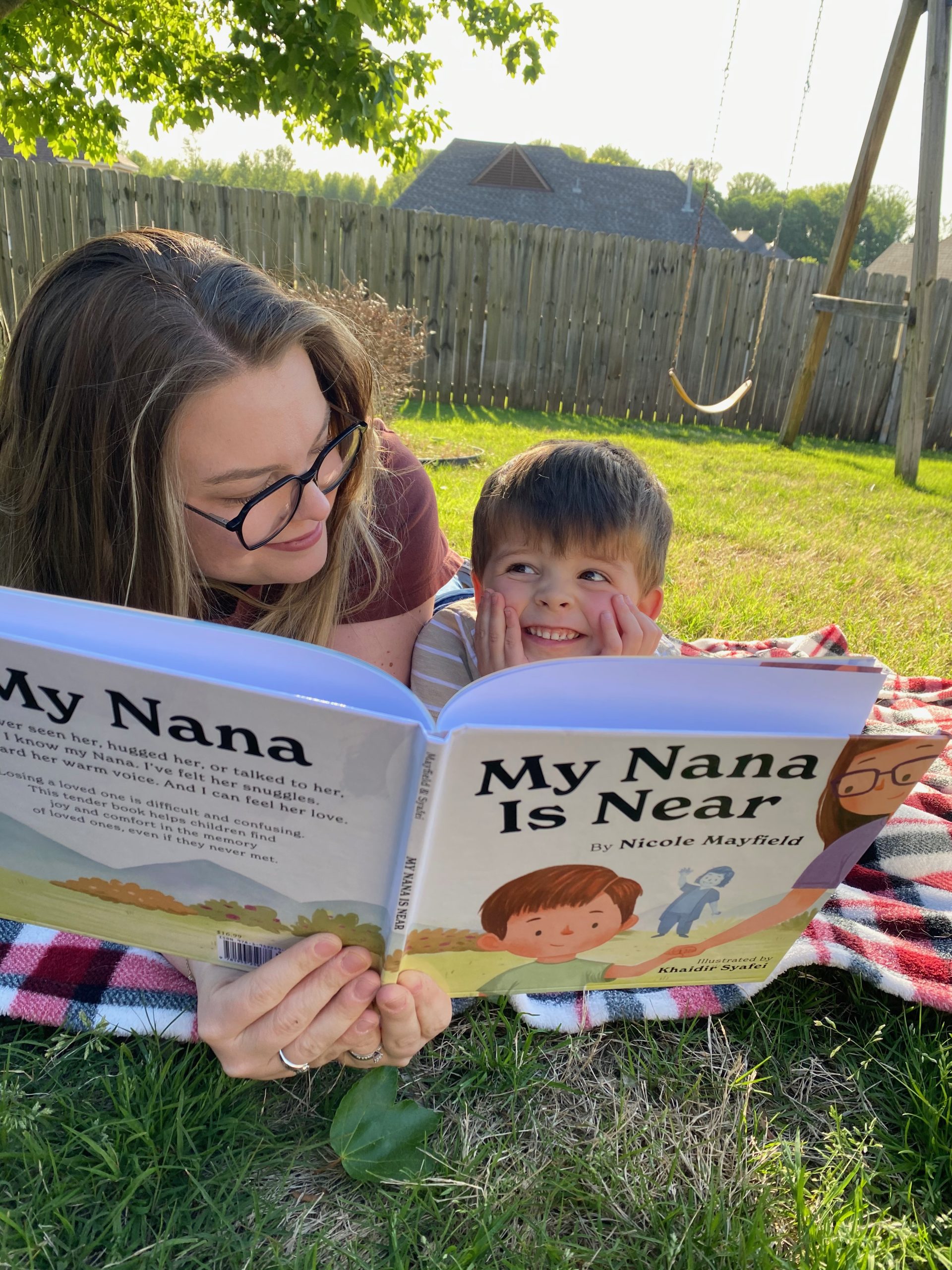 When Nicole Mayfield approached Argyle Fox Publishing, we were intrigued. The topic of her book—loss of a loved one—was familiar, but unique. We'd never seen a book quite like it, and we were eager to help bring it to life.
Published in May 2023, My Nana Is Near immediately struck a chord with readers, and more people are falling in love with Nicole's book every day.
First off, tell us about Nicole Mayfield. Who are you?
I am a Jesus-loving, introverted, thirty-year-old wife, mother, and teacher. In many ways, I'm the epitome of the cliche English teacher: I love poetry, book discussions, puns, a messy hairdo, and a cozy cardigan. I believe that literacy is a basic human right, and that everyone should have access to books. All that aside, my biggest blessings in this life are my little boy, Noah, who just turned four, and my husband, John.
My Nana Is Near is a very personal book. Tell us a bit about the book—what it's about and what inspired the story.
For the vast majority of my life, my mom, Anna, was my absolute best friend. In August of 2018, we found out that the lung cancer she fought the previous year had not only returned, but also had spread to her brain. She was very clear that she wanted to spend whatever time she had left with us fully living life and seizing the day, every day.
I moved in with my mom during this time to help care for her, and about three weeks after moving in, I discovered that I was pregnant. What normally would have been a totally joyous moment felt bittersweet. My mom had talked about becoming a Nana (her chosen name for any grandchildren to call her) since the day my husband and I got married. She had even begun buying and collecting vintage toys for any future grandchildren. She was thrilled when I told her that I was pregnant, and she was determined to meet her grandson the following May. She continued buying toys and books as we spent our days traveling, shopping, and building memories. Unfortunately, my mom passed away in November of 2018, missing the birth of my son by around six months.
All grief is unique and intricately complex; however, I'm not sure I can articulate the extra layer of grief that accompanies losing a parent before they can meet a grandchild. From the moment my son was born, my mom's absence from each of the biggest milestones to the most mundane of moments was glaringly obvious. These moments of gut-punching grief were followed by a heartache for the relationship that they would have shared. Since his birth, I've felt a desperation to make sure that Noah "knows" his Nana in every single way possible. My efforts to have him recognize his Nana's lingering love and presence throughout our days inspired this book. As he continues to grow older, he'll learn more and understand her absence more; for now, at such a young age, it's enough for him to know that in a way, his Nana's love is "nearby."
How did you find Argyle Fox Publishing, and what made you think we would be a good fit?
This is a little awkward; I was sporadically searching for publishers local to Tennessee one day when teaching felt completely unsustainable. I had this sudden hope that maybe I would stumble across a publishing company with a magical employment opportunity, and the stars would align.
Suffice it to say, that did not happen, and days later, I had regrouped and found some passion for teaching again! However, Argyle Fox Publishing kept popping back into my thoughts throughout the week. I had really loved everything I read about the company, its efforts, and its passion for helping authors. Everything resonated with me and felt so sincere and authentic.
I found myself returning to the Argyle Fox author submissions page over and over with this crazy idea to submit My Nana Is Near. Finally, one afternoon, while playing with Noah in the middle of our living room floor, I submitted it as fast as I could, before I could talk myself out of it!
Now that My Nana Is Near is published, how will you measure whether your book is a success? What is your goal for the book?
On an incredibly personal level, having my hands on one printed copy makes it a success, because it's the culmination of a dream I have had to honor my mom's legacy in some way. It feels like the ultimate gift I could give to the lady who raised me and so badly wanted to meet my son; she never got to meet him, but her love for him is imprinted in this beautiful book.
More broadly, my ultimate goal is that this book makes its way into the hands of parents who sadly find themselves in a similar situation to mine. It can be hard enough to explain the death (and consequential absence) of a grandparent to a young child who has had the opportunity to know that person. It is an entirely different circumstance to explain the absence of a grandparent that a child never got to meet, especially when that grandparent would have loved him or her so fiercely. If anyone out there finds My Nana Is Near helpful in this type of circumstance, I will consider it an immense success.
Your illustrator, Khaidir Syafei, did such a wonderful job with the art. How does his work match your vision for the book?
I cannot express enough gratitude to Mr. Syafei for the impeccable work that he did with My Nana Is Near. I will never fully understand how he took the vision I had in my mind and translated it to the pages of my book so beautifully. I found it incredibly difficult to put my illustration vision into words (is that ironic or what?), but I feel so blessed that Mr. Syafei was able to imagine and create images that reflected the words of my story so clearly. I simply could not have asked for anything more!
What are you doing to market your book and let folks know it is available?
I have been relying heavily on social media so far! Once the book was available for preorder, I created a reel revealing that I had been working on something and that it was finally time to reveal it to everyone, and I posted it to my social media accounts. The reel began with that hook, and then included information about my submission, signing a contract, and then photos of Noah and I reading the book together.
Thanks to many wonderful friends and family sharing that video, word spread within my network of friends and then to friends of friends! Last I checked, the video had over 1.4k views! I've tried to keep momentum building by releasing a follow-up on the day before the book's release, as well as other posts answering questions about the book, the publishing process, etc. I also must mention that word traveled like wildfire once one of my eighth-grade students found out about the book. I'm fairly certain that most of the faculty knew by the end of the following day!
What feedback have you received so far on your book?
The feedback has been overwhelmingly positive! I have been so blown away by everyone's reactions to the book so far. Many of my family members have commented on how proud my mom would be, how wonderful this book is for Noah, and how excited they are for me! One of my mom's cousins shared that this book made her realize how hard it must be to have a child who cannot meet a deceased grandparent.
Ultimately, some of my favorite feedback came from several of my students. They were so excited when they found out that I had written a book—"Look! I found it on Amazon!"
A really special moment came when one of my classes asked me to do a read aloud. They had so many follow-up questions and feedback for me; it is truly one of my favorite moments as a teacher.
What do you now know about book publishing that you wish you knew before getting started?
Not to sound facetious, but I wish I knew how exciting and rewarding the process could be with the right publisher! I have wanted to publish a book for so long; however, I was always terrified to actually pursue it with any sincere effort. Publishing seemed like such a daunting task that it was easier to just push the dream to the back burner. Argyle Fox Publishing truly went above and beyond to do all the heavy-lifting, and I am immensely grateful!
What would you say to other authors who aren't sure if they should publish?
I would 1,000% encourage other authors to go for it! I have been so amazed by the outpouring of support I have received in the weeks since my book was released. I truly believed that a handful of people may buy the book, and that it would not appeal to a larger audience. In my mind, my book was for an incredibly specific audience (families in a similar situation to mine). I have been so humbled by the number of people who have ordered a copy simply out of excitement and support.
Furthermore, I have received feedback from those who have ordered the book that it really opened their eyes to the difficulties that accompany losing a parent and never having that parent meet a grandchild. Ultimately, the feeling of having my book out in the world has been a dream come true, and it still feels surreal. All authors should experience this if they have a story they are debating publishing!
Do you have another book in process? If so, do you mind telling us a bit about it?
I have a collection of poems I have been working on for some time now, which I would love to publish eventually. In a similar vein to My Nana Is Near, they are a compilation of the grief experience following my mom's death. I suppose I have always found writing cathartic, and I would love to release this collection, which I want to title, Oh, Good Grief!
I have also had this nagging thought that My Grandpa Isn't Gone would make a great accompanying children's book to go alongside My Nana Is Near. (My dad passed away when I was only twelve years old, so in some ways, it feels as if he lived in a different lifetime than my son altogether).
Where can readers find you online?
I am in the process of creating a website, which can be found here.
Is there anything else the world should know about you or your writing?
Flannery O'Conner said it best: "I write because I don't know what I think until I read what I say."
Thanks so much, and here's to success!