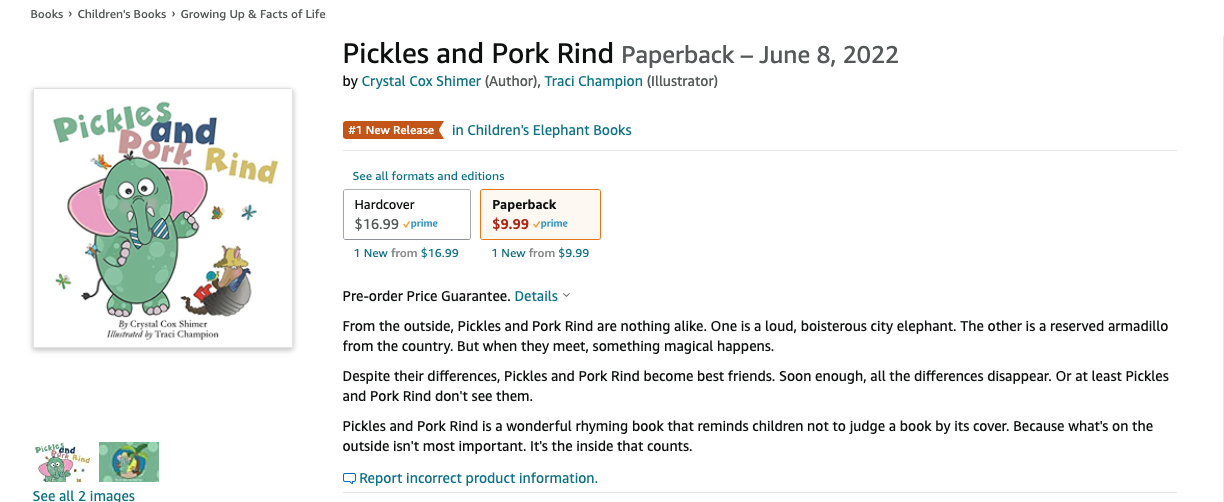 Set to release on June 8 (National Best Friends Day), Crystal Cox Shimer's delightful Pickles and Pork Rind already hit its first milestone. Weeks before publication, it sold enough copies to be named Amazon.com's #1 New Release in Children's Elephant Books. 
When Different Is Similar
What about this little book is grabbing people's attention? A sweet message everyone needs to hear: It doesn't matter what you look like. It's what's on the inside that counts.
For anyone looking for the next great book about friendship, it's right here. Grab your copy of Pickles and Pork Rind for a fun, cute look at what friendship can and should be.
And Crystal—congratulations on earning this accomplishment! It took a lot of work, and we're thrilled for you! Can't wait for your first book (and second and third and…) to find its way into young hands and hearts!
The Elephant in the Room
You've written a book. It needs publishing. Head to the Author Submissions page to send your manuscript our way for consideration.