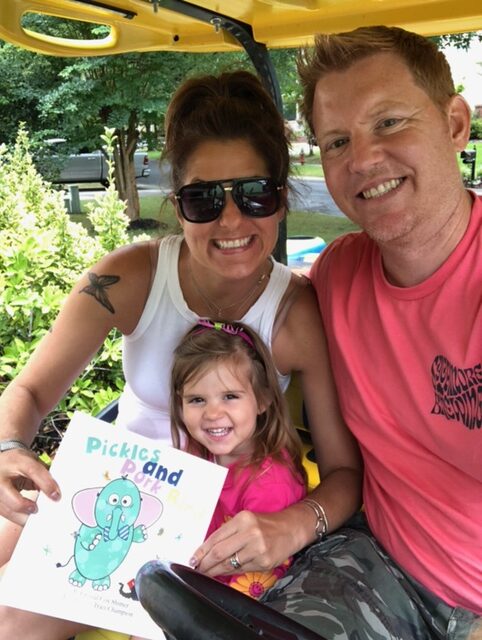 First off, tell us a bit about yourself. Who is Crystal Cox Shimer?
I'm a married, forty-two-year-old licensed occupational therapist, who is currently a stay-at-home momma to my two-and-a-half-year-old daughter and now a budding children's book author, thanks to Argyle Fox Publishing! I live in Tega Cay, South Carolina, and have two dogs that we consider part of our family.
My stay-at-home life wasn't exactly planned, but the pandemic helped make that decision for us, and I wouldn't trade this time with my little one for anything. I'm originally from North Carolina, graduated from UNC-Chapel Hill for my undergrad (Go Heels!) and from the school formerly known as The Medical College of Georgia for my master's.
I love to travel and met my husband while living and working in St. Croix, US Virgin Islands. We eventually left the island to travel and work throughout the United States, which we did for the next five years, traveling from Florida to Alaska, while mostly living in our thirty-eight-foot RV. Life has been full of adventures for us and we're just getting started. I also love good coffee, good wine, and good food. And I love to cook! Being "Mom" is my very favorite title in the world.
When, where, and why did you start writing? Do you have a writing routine? If so, tell us about it.
I have never claimed to be an avid or very good technical writer. (Grammar is not my strong suit.) But after meeting my husband and traveling together, I had a story to tell and found myself wanting to document it. My husband is quite the funny, handsome guy. We are pretty different at first glance and on paper, so the inspiration came to write about how and where we met and how our relationship blossomed into something deeper, with shared experiences and core values.
What inspires you to write?
Usually, a memory of something particularly special triggers an idea and gets things going. I've written three books so far (only one published at the moment), and with each of those books, one specific line of the book initially came to me. Once I had the idea, I would sit down and write the rest, from beginning to end, in one day. Then a month or so would pass before the next thing would happen with each book.
Who are your favorite authors and what do you enjoy about their writing?
I don't think I can decide on a favorite author in the adult book world, but I love memoirs and travel biographies. I really enjoy learning and growing from experiences, so diving into someone else's journey captures me and motivates me—especially when the writing has lots of raw humor and a touch of sarcasm. If you have any good ones to recommend, please send them my way!
As for children's books, I love Deborah Diesen's Pout-Pout series. They're colorful and whimsical, and my daughter loves them all.
Where did you get the idea for Pickles and Pork Rind, and how did you come up with those hilarious names?
I was on the back deck with my in-laws, and we started talking about this need to put these two characters on paper. I knew I wanted the two characters to be animals. I needed them to be different in size, shape, personality, demeanor, habitat, and so on, but they also needed to have enough similarities to complement each other.
Elephants are pretty likable and popular critters and armadillos are overlooked animals that aren't the first pick when it comes to being cute and cuddly. Pickles was named after my daughter's favorite stuffed animal (an elephant), and Pork Rind was named after the snacks my in-laws were enjoying that day. The snack's rough, bumpy exterior, was just what I was looking for—like an armadillo. The characters are loosely based on the personalities of my husband and me. Everyone wants to know who is who, but really, they're a combination of the both of us.
Walk us through the process P & PR went through prior to reaching Argyle Fox Publishing.
After the idea got in my head, I sat down one afternoon and wrote it during my daughter's nap. It just came to me—it was wild!
My husband came home from work that day, and I said, "So, I wrote the book today." He looked at me a little surprised, but he was intrigued. He read through it and thought it was perfect.
After that, Argyle Fox showed up on my Instagram. Call it a sign from above, the universe working some magic, or Big Brother listening, but I rolled with it and started researching Argyle Fox. I submitted my manuscript and received a response from Daniel very quickly. Soon we were chatting on the phone, which eased my mind that this was a real, live, genuine human. He told me the process, and my husband was all for it, so we soon got started.
The process can move as quickly or as slowly as you want it to and (for children's book authors), it depends on your illustrator's speed, as well.
Did you always think you had something special with Pickles and Pork Rind or were there moments of doubt?
I always felt confident that this story was special to me and my family. I definitely had doubts that it would be a hit outside of my family, but I've received nothing but rave reviews and excitement for book two to come out.
Pickles and Pork Rind was obviously written for children. What do you hope they get out of it?
I hope that they get that you can find common ground in all forms, as long as you keep an open mind and you're willing to try. And that oftentimes those seemingly different traits and skills can make a relationship even better when used for good and to complement one another rather than push away one another.
What are your hopes for your book? How will you measure whether it is a success or not?
My goal was to make a book that caught my daughter's attention and to make my investment back, both which have happened already—so success! However, I would also love to see this book in classrooms and at book fairs, which we are working toward in our local district.
What do you wish you'd known about the publishing process before getting started?
Honestly, the investment, and how much Daniel and Argyle Fox Publishing help with keeping the costs down. Navigating the industry can be tricky and costly if you don't have the guidance or know what you're doing. A lot of people choose to self-publish (and I initially questioned if I should), but I'm so grateful to Argyle Fox Publishing and Daniel for everything they have done for me. It was definitely the right route for my publishing experience.
Talk about your illustrator, Traci Champion. How did you choose her and how do her illustrations compare to your vision for Pickles and Pork Rind?
I found my illustrator through another not-so-chance meeting during Halloween, in my neighborhood. She and her family had this incredible Halloween display and I quickly, semi-jokingly asked, "Do you do children's books, too?" Well, one thing led to another, and I quickly found out that Traci and I just click.
While working on the book, I would send her an idea, and she would create a illustration that was spot-on, down to the finest details. We built these guys together, and it has been so fun! Not only do I now have an amazing illustrator, but I also have a great new friend and support who lives one street down from me. Pickles and Pork Rind was meant to be!
You've already started work on your second book, Pickles and Pork Rind Go on a Road Trip. Can you give a sneak preview of what to expect?
Book two is all about the RV life and each state my husband and I visited together. I think I actually like it even better than the first book!
Your book only published a few days ago, but have you received feedback from readers? If so, what are they saying?
Five stars, so far! Yay! I'm hearing and reading great feedback on how the book is now many children's new favorite book, which is everything to me. I love that my vision and story can capture those little minds and hopefully teach them values in building metaphorical bridges, not walls.
Where can people find you online to keep up with your life and/or writing?
I'm on Instagram and I have a Pickles and Pork Rind Facebook page.
Is there anything else the world should know about you or your writing?
This has been one of the most fun, rewarding, and meaningful hobbies-turned-small-business I've ever accomplished. I'm hoping Pickles and Pork Rind will continue to grow and that kids want to know more and more about their adventures as they are published. Each book has meaning behind it, with the story based on the life and travels of my family and me.
If you have any questions, whether about the process or deeper meanings to the storyline, please don't hesitate to contact me. I would love to hear from you!
Thanks so much, and here's to more adventures with Pickles and Pork Rind!