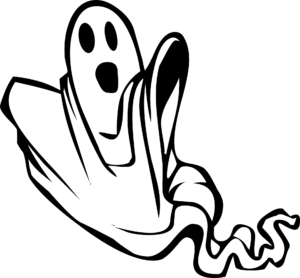 A ghostwriter may be just what you need to get your story out of your head.
Spend enough time in the world of writing and you'll come across the term "ghostwriter." But what is a ghostwriter?
A ghostwriter is responsible for a lot of stuff you read. In fact, a ghostwriter may have written your favorite book. However, don't expect this author to speak up. That would break the ghostwriter's number one rule.
Ghostwriter Defined
Whether translucent or totally invisible, ghosts are hard to see. Sometimes, impossible.
The best ghostwriters are just the same. They stay in the shadows, writing on behalf of organizations and individuals. While they may be expert wordsmiths, they don't get credit for their work. At least not publicly.
What Is a Ghostwriter's #1 Rule?
Ghostwriters abide by a certain code. At the top of that code is a single rule. It was already discussed before, but here it is in plain text:
Ghostwriters shalt remain in the shadows.
The reason for this is obvious. Ghostwriters aren't supposed to get credit for their writing. Rather, they write on behalf of someone else, representing that person or organization publicly. But whoever they write for, they must remain ghostlike. That means staying quiet and not telling everyone about the stuff they write.
Granted, some ghostwriters get permission to promote their work. But not often. In most cases, they keep their role on the down-low.
Wondering how certain celebrities write so eloquently? Or how your local hospital has such great newsletters? They likely use a ghostwriter.
How Ghostwriters Work
While ghostwriters do the writing, they're not in charge of the content. Whoever hires them wields that power.
The ghostwriter may follow an outline provided by a client. Or the client may supply audio recordings. The ghostwriter then transcribes these recordings and massages the content into chapters or stories that make sense. In other situations, the ghostwriter interviews the client and uses the interview to write the story.
Whatever technique is used, the client is always in control. If the ghostwriter creates something the client doesn't like, the ghostwriter gets back to work. Once the client is satisfied, the article or book gets published under the supposed author's name. The ghostwriter's name is nowhere to be seen.
You Could Use a Ghostwriter
What does a ghostwriter have to do with you?
If you're like every other person on planet Earth, you have a story to tell. But perhaps you struggle to get it down on paper. After all, it can be tricky to fit writing into your day. That's where a ghostwriter comes in handy.
Instead of dreaming of writing your book, you can hire a ghostwriter and actually get your book written. Find the right one, and you can enjoy the book writing experience. Because you're not actually doing the writing. Your secret writing pal is.
Ghostly Good Publishing
Whether you penned your story or had a ghostwriter do it for you, Argyle Fox Publishing can get your book to the publishing finish line. Submit your manuscript today for consideration.