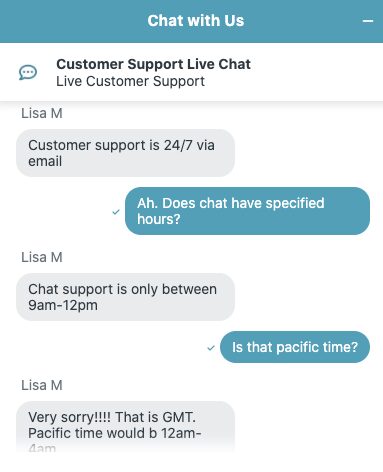 UPDATE! (See Section Below)
In today's world, you're used to 24/7 access to anyone you want. So if you've tried using IngramSpark's online chat feature, you may have been disappointed. Frustrated. Annoyed. Because most of the time, they're offline. There's simply no one there. Especially if you have questions about misprinted books or other issues. So what are the hours for IngramSpark Live Chat?
IngramSpark Live Chat Hours
If you didn't see it in the photo above, IngramSpark offers chat-based customer service from midnight to 4 a.m. PT. Live on the east coast? IngramSpark live chat is available from 3 a.m. to 7 a.m.
Update 2023: According to IngramSpark Customer Support, they are now available 12 a.m. to 8 p.m. ET for all authors who publish with them.
Contacting IngramSpark Support
Not able to get out of bed that early to chat them up? You've got options.
You can call them Monday through Friday, 7 a.m. to 7 p.m. CT (that's 8 to 8 ET or 5 to 5 PT). In America or Canada, the number is (855) 997-7275.
Have a little more time? Shoot them an email at ingramsparksupport@ingramcontent.com.
Have what is possibly a basic question? Check out their Help Center and look up your question. You may find the answer with ease.
They Aim to Please
For those who have used IngramSpark live chat in the past, these reduced hours may be a shock. For a long time, they were available just about any time of the day or night. Though this may be confusing, don't get upset.
In our experience, IngramSpark is eager to please and quick on the response. Despite being a large, international company, they work hard to make sure their customers are happy. So while they may not have open chat support at all hours, they go out of their way to field your questions and find resolutions to any problems you may have.
Whether you're wondering how to buy books wholesale from IngramSpark or why your book is temporarily out of stock online, contact Ingram for the answers! (Or click the links in the sentence before this one.)
Happy publishing!